Craving a bit of Southern Italy?
Just whip up a classic caponata, this delicious (and healthy) Sicilian appetizer.

Caponata is a classic regional side dish that harnesses the last bit of late summer. Whether you're hoping to hold onto summer flavors or you want a yummy snack that boosts your immune system for autumn, this simple side dish is for you.

Read on to learn more about caponata and how you can make your own at home!

What is Caponata?
Caponata is a stewed dish made up of various Mediterranean vegetables and Italian herbs and spices. It is originally a Sicilian dish that mimics the French ratatouille. But there's a twist! Caponata has more of a sweet and sour flavor than ratatouille, called agrodolce. 
In most classic caponatas, you'll find eggplant, olives, and onions seasoned with herbs, typically served as an appetizer – either warm, room temperature, or cold. 

Is Caponata Healthy?
Thankfully, caponata is a healthy dish that's packed with tons of vitamins, minerals, and antioxidants. Here are a few of the healthy benefits of this yummy dish:
High in nutritional value.


Caponata contains several vegetables that are high in vitamins and minerals. Red peppers bring high levels of vitamin C while tomatoes offer plenty of lycopene. Eggplants are also potent antioxidant veggies that may help to

lower blood cholesterol

and improve

heart health.

Boosts the immune system.


The ingredients in caponata like

olives

,

onions

,

basil

,

red peppers,

and

eggplants

are all high in antioxidants. These antioxidants protect the body from inflammation and help to support a strong immune system.

Nourishes the body with healthy fats.


Both

olive oil

and

pine nuts

(

pignoles

) bring a balanced dose of healthy fat to this caponata. They contain

omega-3 fatty acids

which have been shown to improve brain, skin, heart, and immune health, as well as protect the body against damage and aging. 
How to Enjoy Caponata
Caponata has become more of an appetizer or side dish, but it was originally eaten as a vegetarian main course. No matter how you enjoy it, it is delicious enough to eat on its own – just grab a spoon! Here are a few other ideas for enjoying caponata in your kitchen:
Bake with Fish or Chicken


For a quick yet elegant meal, spoon caponata over fish (white fish like halibut or trout work well) or chicken, then bake in the oven until cooked.  

Make a Rustic Pasta


Caponata makes a great chunky "sauce" for baked pasta. Simply add to a large baking dish with parboiled pasta, a splash of chicken broth or water, and top with cheese (optional). Then bake for 20-30 minutes or until the pasta is fully cooked. 

Add to a Cheese Board or Charcuterie Board


Caponata makes a yummy dip for crusty breads, crackers, and crostini. Include a bowl of caponata with your next cheese board or charcuterie board for an added punchy flavor that pairs perfectly with sharp cheese and cured meats. 
Recipe: Dominique's Healthy Caponata
Along with bagnas, caponata might be one of my favorite authentic Italian recipes. It's perfect for a quick snack or a fancy meal. What I love most about caponata is that you can make a big batch and chill it. Because of the vinegar and honey in it, it keeps in the fridge for weeks!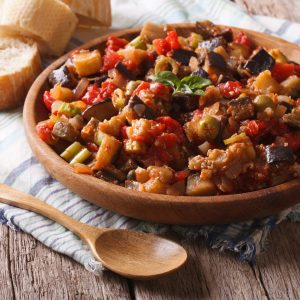 Classic Sicilian Caponata Recipe
Caponata is a Southern Italian Mediterranean vegetable stew with Italian herbs and spices. Originally from Sicily, it reminds one of French ratatouille, with a flavorful twist. Caponata has more of a sweet and sour flavor, called agrodolce. 
Cuisine
Italian, Piemontese
Knife

Cutting board

Large frying pan
1

large sweet onion

diced

1

celery heart

thinly diced

3

red peppers

quartered and diced large

2

large egg plants sliced into 2 cm pieces

sliced into 2 cm pieces salted then patted dry and diced

1

cup

diced tomatoes

1/3

cup

green olives

chopped

2

tbs

pignolis

1

small bunch basil leaves

cut in strips

1

tbs

sugar to taste

1⅓

cup

Balsamic Vinegar

Extra Virgin Olive Oil
Cut eggplant in thick rounds and sweat with salt, follow my video.

In a large pan saute the first 3 ingredients one after the other separately with a little Olive oil. Drain each from oil and reserve in a dish. Fry the egg plants in olive oil in batches so they have room to brown and reserve on paper towel.

Drain all the oil from the pan.

Return all the vegetables into the pan (including egg plants) add tomato and simmer for about 5 min.

Then add olives pignolis, basil. Simmer for 1 min. Then add sugar and vinegar.

Simmer about two min.

Let the caponata rest at room temperature for several hours, preferably overnight. Serve at room temperature.

You can make extra because the caponata will last in a jar for at least a month in the refrigerator.
Make your caponata a day ahead of time. The flavors marry and enhance overnight, making the dish even more delicious. 

Short on time? Use this caponata as a quick "sauce" for a rustic pasta dinner. 

Plan to make extra! This caponata will last in a jar for at least a month in the refrigerator. Having extra on hand makes for an easy midday snack or simple pasta dinner. 
Calories:
116
kcal
Carbohydrates:
18
g
Protein:
2
g
Fat:
4
g
Saturated Fat:
1
g
Polyunsaturated Fat:
1
g
Monounsaturated Fat:
1
g
Sodium:
137
mg
Potassium:
289
mg
Fiber:
2
g
Sugar:
14
g
Vitamin A:
1947
IU
Vitamin C:
80
mg
Calcium:
37
mg
Iron:
1
mg
Keyword
capers, caponata, healthy, nutritious