In the days of fast food and convenience eats, sitting down for a home-cooked meal can feel like a luxury.
But it doesn't have to be that way!
All the products we make at Anna Maria's Foods are designed to make cooking more enjoyable for you and your family. That means making simple recipes that take less time and effort to make, are more nutritious, and of course delicious. These fast, simple recipes will please the most discerning palate
Here, we'll share our top three products that everyone should have in their pantry for healthy, easy elevated meals any day of the week. Then, we'll share one of our favorite simple recipes – Piemontese Rice Salad – that makes humble pantry staples seem like fancy foodie fare!
(We included our favorite Rice Salad Recipe!)
Simple recipes made with Anna Maria's favorite kitchen sidekicks make easy, tasty elevated dinners. 
Nothing beats a bowl of pasta topped with a hearty spoonful of tomato sauce that has been bubbling on the stove for hours. But these days, who has the time? Thankfully, you don't have to forgo authenticity and flavor just because you live a busy life. 
Anna Maria's Traditional Italian Pasta Sauces are made the traditional way – with love, time, and a focus on simple, quality ingredients. Keep a few jars in your cupboards for those rushed weeknights or lazy weekends. Plus, our pasta sauces can be used in countless ways for easy cooking and entertaining. 
Make a simple spaghetti with your favorite Anna Maria's sauce. (Or try over Zoodles for an even healthier pasta fix, like in this

Gluten-Free Keto Shrimp and Zucchini Noodles

recipe). 

Use as the base sauce for a make-your-own pizza night. 

Use in any recipe that calls for plain tomato sauce or canned tomatoes for a richer flavor. Try it with chilli, stuffed peppers, baked pasta dishes, and casseroles. 

Pour over baked potatoes and top with cheese for a gluten-free alternative to pasta or pizza. 

Make quick work of eggplant or chicken parmesan. 

Bagnas are like recipe time machines – they give you back hours of prep and make eating healthy quick and easy.
Each bagna is packed with chunky veggies like tomatoes, onions, peppers, and carrots to help you boost your daily intake of healthy vitamins and minerals. Special ingredients like olives, capers, orange zest, or porcini mushrooms show up in different varieties of our Bagna Rossa to give the classic chunky dip a regional flair. 
Enjoying bagnas is as easy as 1-2-3. Just open the jar, pour into a bowl, and dip with your favorite chips or pita breads. Here are a few other easy ways to use bagna for a rustic touch that packs a nutritional punch:
Spread on focaccia bread, then top with your favorite toppings for a thick crust pizza. 

Use instead of pasta sauce for a chunky tomato-based pasta. 

Add to chili or stews for a hearty tomato flavor. 

Pair it with crackers, cheese, olives, and Italian bread for an elevated cheese board.

Add a few spoonfuls to veggie soup for an Italian spin. 
3. Add Sweet Depth in a Pinch with Our Italian Jams
For most people, jam is just a pantry staple that's pulled out for toast or Sunday morning biscuits. But in our house, we use jam to elevate all kinds of .

The beauty of using jam with these simple and tasty recipes is that it adds a whole flavor profile to a dish, not just sweetness. Swap sugar in cooking recipes with jam for next level goodness. 
Keep a jar of Anna Maria's fruit jam on hand to elevate any homemade or artisan bread. 

Add a few drops of water to a tablespoon of warm jam to make a quick and easy glaze for cakes, quick breads, tarts, and more. 

Add jam to marinades for beef, chicken, pork, or fish. 

Spice up a boring charcuterie board with an unexpected Red Pepper Jam or Radicchio Marmalade. 

Make your own

Italian Salad Dressings

, but use a spoonful of flavorful jam instead of sugar or honey to add balance and depth.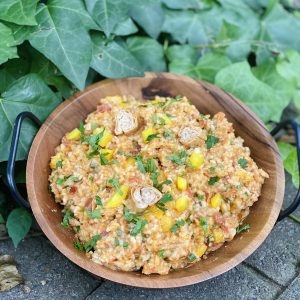 Recipe: Piemontese Rice Salad
Dominique Debroux, Founder of AMF, Nutrition Addict
In just a few minutes, you can whip up a full Piemontese meal with just a few pantry staples: rice, hot dogs (vegan tofu dogs work great, too), and Anna Maria's Bagna Rossa Basil. Let's get cooking! This dish can be served as a main dish, or as a side dish. This recipe yields 4 servings as a main dish, 8 servings as a side dish.
Course
Main Course, Side Dish
2

cups

rice

white is recommended

4

cups

water

for the rice

1

jar of AnnaMaria's Bagna Rossa Basil

or any other bagna or chunky Italian sauce

2

hot dogs of your choice

such as chicken dogs, vegan dogs - great roasted and chopped in rings

2

tbs

capers

1

red, orange or yellow bell pepper

diced small

¼

cup

fresh parsley

chopped coarsely

2

tbs

olive oil

extra virgin

1

tsp

yellow mustard

1

tbs

apple cider vinegar
Rinse rice well, changing water a few times. The key is to rinse out excess starch.

Place in a pot with 2 cups of water. (If using a rice cooker, check instructions for proper water to rice rations, add ingredients to rice cooker and skip next 2 steps.)

Bring to a boil.

Reduce to a small simmer and cook until the rice is done "al dente", about 17-20 minutes.

Rinse rice in cold water to stop cooking and clean off any remaining starch.

Add the rest of the ingredients to your cooked rice.

Mix well and serve.
Swap the rice for pasta and enjoy the perfect Italian pasta salad!
Try different types of Bagnas for slightly different flavors.
Calories:
508
kcal
Carbohydrates:
81
g
Protein:
10
g
Fat:
11
g
Saturated Fat:
2
g
Polyunsaturated Fat:
1
g
Monounsaturated Fat:
7
g
Cholesterol:
10
mg
Sodium:
318
mg
Potassium:
229
mg
Fiber:
2
g
Sugar:
2
g
Vitamin A:
1254
IU
Vitamin C:
43
mg
Calcium:
48
mg
Iron:
2
mg