Try our simple, deli-style Einkorn homemade bagel recipe.
There's nothing quite like a fresh, hot bagel from your favorite deli. But what if you could recreate that same delicious experience right at home, with better-for-you ingredients?
Good news – you can! When I first tried making bagels, my family thought I was nuts. They must be complicated, tricky, and challenging to make, right? Wrong. With a simple recipe like the one I'll share with you here, making homemade bagels is easy (and even enjoyable). 
Ready to become the Saturday morning breakfast master? Read on to learn how to make gluten-free bagels from scratch! 
Why Everyone Should Make Their Own Bagels "From Scratch"
I know what you're thinking…why spend all this time making my own bagels when I can just buy them in the supermarket or at my local deli?
They're fresher – nothing beats hot, homemade bagels
There are tons of reasons, but the most important is freshness and taste. Homemade bagels simply taste better than anything you can buy in the store. They're hot out of the oven and you can top them with whatever ingredients you like. They freeze well, too, so make plenty! 
They're healthier – you know exactly what you put in your bagels
Additionally, when you make your own bagels, you are in full control of the ingredients. You won't find any preservatives, fillers, or inflammatory ingredients in this recipe! For those of us with gluten sensitivities, this is a huge advantage. Because I am sensitive to gluten and trying to reduce inflammatory foods in my diet, I chose to make these with my favorite ancient grain: Einkorn. 
They're more fun – involve kids, relative, friends for even more joy
Finally, making your own bagels is a bit of a kitchen triumph! Bagels are one of those foods that seem impossible to make at home, but they're actually quite simple and fun to make – and give as a gift. Get the kids involved or just put on your favorite podcast and relax while you bake. You'll not only impress your family, but boost your kitchen confidence at the same time! 

Why Use Einkorn Flour?
Einkorn flour is my favorite go-to flour for baking. I originally started using it because it was less inflammatory than traditional flour and didn't upset my digestion. It allowed me to eat bread again! 
But the more I use it, the more I love it. It has a deeper flavor and chewy texture that's perfect for bagels and sourdoughs. 
Read more about why Einkorn is my favorite flour here!
Toppings Galore: How to Flavor Your Bagels 
This recipe is extremely versatile and can be used to make delicious sweet, savory, or classic plain bagels. Here are a few ideas to make your favorite bagel flavors:
Salted (flaked salt)

Everything (poppy seeds, sesame seeds, onion flakes, garlic flakes, pretzel salt, and pepper – or, use

Everything But the Bagel

from Trader Joes)

Sesame seeds

Poppy seeds

Cinnamon Sugar

Lemon zest and sugar

Jalapeños and Asiago cheese

Parmesan and red pepper flakes

Pizza (spoon a small amount of AnnaMaria's

Bagna Rossa

on top and add shredded parmesan cheese)
Or, mix in a few extra ingredients to flavor your bagel dough:
Cinnamon and raisins

Dried onions and chives

Dark chocolate chips

Blueberries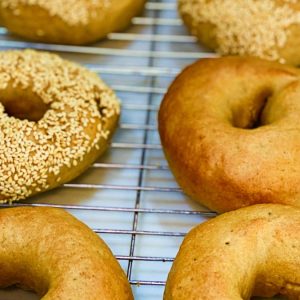 Deli-Style Homemade Einkorn Bagels
Dominique Debroux, Founder of AMF, Nutrition Addict
With this homemade bagel recipe, you'll become the star of Saturday mornings! Pair these yummy, hot-off-the oven bagels with cream cheese and one of AnnaMaria's jams. Try Apricot Almond jam for a sweet breakfast, or Bell Pepper jam for something sweet and savory.
Scale

Mixing bowls

Mixing spoons

Cookie sheets (2-3)

Large pot

Parchment paper
Levain
50

g

Einkorn sourdough

120

g

Einkorn flour
Make the levain
Mix 50 grams of Einkorn Sourdough starter with 130 grams of warm water until it's creamy.

Then mix in 120 grams of Einkorn flour.

Let cure for a minimum of 5 hours, or up to 14 hours.
Make the dough
Dissolve 1.5 tbs of maple syrup (or honey) in 100 grams of warm water and 110 grams of hemp, macadamia, or coconut milk.

Mix in the levain.

Mix 1.5 tsp of salt into 650 grams of flour.

Work it into the levain and liquid.

Knead together for a short time (no more than 1 minute) until the dough is smooth and just sticky.

Shape dough into a ball, and put in a glass bowl.

Rub dough with olive oil.

Proof dough for 2 to 3 hours.

Cut dough into 8 squares.

Shape dough squares into 8 balls.

Use back of wooden spoon to make a hole in each bagel portion.

Use your thumb to stretch a hole into each ball to create a bagel shape.

Put on an oiled sheet and brush each bagel with olive oil.

Either let proof for one hour or put in the refrigerator so that you can cook fresh bagels for breakfast. (To do so, take them out of the fridge 1 hour before boiling in the morning).
Cook bagels
Preheat oven to 450 degrees F.

Boil 2 quarts water, add 1 tbs Maple Syrup (or honey), and 1 tsp Baking Soda.

Boil each bagel for 45 seconds on each side.

Drizzle with sesame seeds or another topping if you want.

Bake on a pan covered with oiled parchment paper for 25 to 30 minutes until golden brown.

Enjoy your beautiful bagels.
I like to mill einkorn berries and sift the flour so that it is partly whole wheat, mix half all-purpose and half whole wheat to get a delicious flavor with loads of benefits.
Calories:
155
kcal
Carbohydrates:
31
g
Protein:
4
g
Fat:
1
g
Saturated Fat:
1
g
Polyunsaturated Fat:
1
g
Monounsaturated Fat:
1
g
Sodium:
1451
mg
Potassium:
51
mg
Fiber:
3
g
Sugar:
4
g
Vitamin A:
28
IU
Calcium:
27
mg
Iron:
2
mg
Keyword
bagels, einkorn, gluten-free