Our Meatball Recipe is Yummy Proof that Comfort Food and Healthy Eating Can Go Together.
If you're like most people, you may feel like you have an angel on one shoulder, and a devil on the other. The angel urges you to eat lots of healthy fruits and vegetables and keep portion sizes under control. The devil, however, tempts you with guilty pleasures and comfort foods. This meatball recipe, an original AnnaMaria's creation, satisfies both.
As someone who loves food, but also wants to do the best for my body at all times, I get it.  I know what it's like to feel like you have to give up all the joys of eating if you want to stay well. Trying to live healthy and feel satisfied can seem impossible.

The truth is, you don't have to sacrifice! Comfort food can be healthy. And healthy food can taste as good as your old favorite comfort foods!

Let's look at some simple ways to make your favorite comfort foods healthier and enjoy a simple and comforting meatball dinner that will leave everyone full and content!
5 Simple Tips for Making Your Favorite Comfort Food Recipes Healthier
1. Mix in hidden veggies.

You can boost the benefits of your comfort food recipes by mixing in some hidden veggies. A food processor comes in handy here – simply process vegetables like carrots, zucchini, kale, or other nutritious vegetables and add to your pasta sauces, meatballs, lasagnas, burgers, tacos, and more

2. Make smart replacements.

Those of us who are gluten-intolerant or vegetarian are already masters at ingredient swapping. If you haven't put a spin on your favorite recipes yet, now's the time to try. A strategic ingredient swap can transform an indulgent meal into a better, healthier version of itself – without sacrificing any flavor!

Here are some of my favorite better-for-you ingredient swaps:
Replace regular flour with gluten-free flour or Einkorn flour.

Replace rice with cauliflower "rice."

Replace sour cream with whole fat Greek yogurt. 

Use unsweetened applesauce instead of vegetable oil in baked goods. 

Mix cauliflower into mashed potatoes to bulk them up without the calories.

Replace pasta with spaghetti squash or zucchini noodles (zoodles). 

Use pureed butternut squash to cut the cream in macaroni and cheese. 

Replace vegetable oil and butter with olive oil, avocado oil, or walnut oil. 

Blend frozen bananas to replace ice cream in dessert recipes.

Replace heavy cream with silken tofu. 

Make your own salad dressings, they'll taste even better without the extra salt, sugar, and preservatives.

Swap refined sugar with honey, agave, stevia, or other natural sweeteners.




 3.
Use healthier cooking methods.
Are some of your favorite comfort foods fried? If so, you're not alone! Fried foods are some of the most difficult foods to cut out of your diet because they tend to be so delicious! For me, things like fried arancini just can't be beat.

Aside from my precious arancini, most things are just as good baked, sautéed, steamed, or roasted. Some things are even better this way! A toasty eggplant parmesan, for instance, is even better when crisped up in the oven, rather than left soggy fried in oil.
4. Reduce the added salt, sugar, and other ingredients.

Many recipes call for more sugar and salt than we really need. In fact, you can cut up to 25% of the sugar in a recipe without noticing the change in sweetness. Challenge yourself to sprinkle less salt on your meals and reduce the sugar in recipes.

You can also try cutting the amount of cheese and condiments you put on your favorite foods while still enjoying a small amount of added seasoning. Soon, your taste buds will adapt and you won't even notice the difference.
5. Fill up on healthy foods, then enjoy smaller portions.

Cravings happen. Sometimes you just need to indulge in that decadent chocolate cake or cheesy pasta! When that time comes, don't deprive yourself. Fill your plate with healthy foods, then allow yourself a bite or a  half-sized portion and truly enjoy it. You'll probably find that just a few bites is more than enough to satisfy your craving.

The point of living a healthy life is not to be perfect and avoid junk food all the time – it's to stay healthy enough so you can enjoy the pleasures of life as long as possible.
Recipe: Healthy + Comforting Meatball Dinner 
This meatball dinner recipe is one of my favorite comfort food recipes of all time – and it's healthy, too!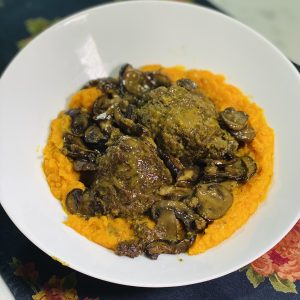 AnnaMaria's Healthy Italian Meatballs
Dominique Debroux, Founder of AMF, Nutrition Addict
Tasty, "low guilt" Italian meatball recipe, using healthy substitutes, keeping the wonderful, richness and taste of the classic recipe.
Cuisine
Italian, Piemontese
Food processor

Measuring cups and spoons

Stand Mixer with triangle attachement or large bowl and your hands

Large frying pan, preferably with at least 3 inch sides

Baking pan
Mushroom Gravy:
2

cups

Sliced mushrooms

mix between cremini and shiitake or any strong flavored mushrooms

2

tbsp

Marsala wine

or 3 tbs red wine

2

cups

Vegetable broth

2

tbsp

Arrowroot starch

Salt and Pepper

to taste

3

tbsp

Olive oil

2

tbsp

Ghee

ghee is optional and you can also use butter to sauté mushrooms
Making the Meatballs:
In food processor chop baby spinach, parsley and garlic to a fine chop.

Make egg substitute by mixing ground flaxseed with 3-4 tbsp of water, set aside to thicken for 15 min.

Combine all meatball ingredients in a stand mixer bowl and mix with the triangle attachment until fully mixed. Alternative is to mix in a large bowl with you hands.

Roll out the meatballs using about a quarter cup of mix for each.

Place on a pan and store in the refrigerator while you start the gravy.
Mushroom Gravy:
Place your frying pan on medium heat, add 1 tbsp olive oil and 1 tbsp ghee (or butter), until ghee is melted.

Add Mushrooms and spread them out to sauté.

Sprinkle with salt and cook covered for 2 minutes to release water.

Uncover and keep sautéing until the water is gone and the mushrooms have browned. Put them aside in a bowl.

Put the rest of olive oil and ghee (or butter) into the pan until ghee is melted, and place all the meatballs to sauté.

Brown each side and keep turning until most of each meatball has been caramelized on the outside. Then take them out and place them back on the baking pan.

With the frying pan still on the heat, pour the marsala (or red wine) in and deglaze the pan. Make sure you scrape up all the good flavor stuck on the bottom of the pan.

Add the mushrooms back in and then add the broth.

Once everything is at a fast simmer add the meatballs. Cover and simmer, turning occasionally, for 10 minutes.

Make slurry with arrowroot and 6 tbsp water.

Add the arrowroot slurry slowly while you're mixing the gravy and stop when the gravy reaches the thickness that you want.

Salt and pepper to taste, and they are ready to serve.
Vegan flaxseed "egg substitute" is rich in Omega 3s and Omega 6s, which our body needs, and is the perfect healthy and nutritious option.
Calories:
546
kcal
Carbohydrates:
20
g
Protein:
33
g
Fat:
39
g
Saturated Fat:
15
g
Polyunsaturated Fat:
3
g
Monounsaturated Fat:
16
g
Cholesterol:
119
mg
Sodium:
824
mg
Potassium:
999
mg
Fiber:
9
g
Sugar:
3
g
Vitamin A:
1923
IU
Vitamin C:
16
mg
Calcium:
80
mg
Iron:
7
mg