Turn your dinner into an immune-boosting experience with antioxidant-rich apple cider vinegar tonics. Presenting, "Chicken Brewata", our immune-boosting twist on the traditional Chicken Piccata, made with Vinegar Tonic Brews.
Whether it's cold and flu season or the height of summer, a strong immunity is essential to living a healthy life. An easy way to protect yourself is to keep your kitchen and pantry stocked with immune-boosting ingredients so you can always whip up a healthy meal. 
Want to know my secret immunity-boosting weapon? It's Mind Your Manna's vinegar tonics. Unlike traditional cider vinegar – which is a healthy kitchen essential, itself! – these tonic brews are steeped with a variety of superfoods and healing herbs. 
One of my favorite ways to use a tonic brew is with my unique spin on Chicken Piccata. Let's call it Chicken Brewata. 
Keep reading to learn why vinegar brews make the best Chicken Piccata and snag the recipe yourself!
Using Vinegar Brews for My Chicken Piccata – Chicken Brewata
What, no lemon? That's right! In this special version of Chicken Piccata, we're swapping the traditional lemon juice for superfood fire and moon brew cider vinegar tonics. But don't worry. There will be plenty of lemony-citrusy flavor packed inside our brews. Let's check them out!
We blend two unique vinegar tonics from Mind Your Manna: The Fire Brew: Immunity (spicy) and the Calm Moon Brew (not spicy) for the perfect tangy sauce for Chicken Brewata:
Fire Brew Vinegar Tonic
The Fire Brew: Immune from Mind Your Manna gives us the same mouth-watering acidity and citrus notes of lemon while offering tons of additional health benefits. Apple cider vinegar alone boosts the immune system, aids in detoxification, and floods your body with healing antioxidants.

But the Mind Your Manna blend goes further. It also includes turmeric, ginger, garlic, horseradish, onions, habanero peppers, citrus fruits, apples, rosemary, clover honey, tangerine, lemon, pineapple, astragalus root, rosehips, and oranges.


Moon Brew Vinegar Tonic
The Moon Brew: Calm balances out the spice of the Fire Brew while adding more flavor and plenty more health benefits. You'll get an even bigger immune boost plus added stress relief benefits from the Moon Brew's ginger, celery, cucumber, spinach, lemon balm, linden flower, chamomile, and more.
Together, these two brews make the perfect tangy backdrop for our Chicken Brewata. Grab your brews and let's make a delicious dinner that packs an immune-boosting punch!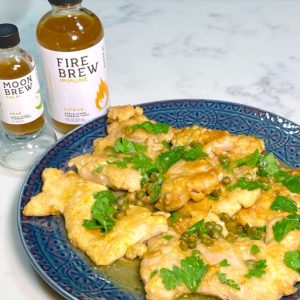 Chicken Piccata with Fire Vinegar Tonic Brew (Chicken Brewata)
Dominique Debroux, Founder of AMF, Nutrition Addict
A twist on the traditional Italian Chicken Piccata recipe replaces lemon with Vinegar Tonic Brews to turn your dinner into "Chicken Brewata", an immune-boosting experience with antioxidant-rich apple cider vinegar tonics.
Cuisine
Italian, Piemontese
Measuring spoons

Ziploc bags

Meat tenderizer

Frying pan

Large plate or tray
7-8

boneless chicken thighs

2

tbsp

olive oil

extra virgin

1

tbsp

butter

1-2

cups

flour

1½

tbsp

Fire Brew Immune

1½

tbsp

Moon Brew Calm

1

cup

chicken broth

2

tbsp

capers

salt & pepper

to taste

parsley

to garnish
Flatten out 7-8 boneless chicken thighs with a tenderizer. Lightly salt them on both sides.

Heat up 2 tbsp of EVO and 1 tbsp of butter in a frying pan.

Put flour in a Ziplock bag or a large dish. Dredge the thighs in the flour (I use Einkorn).

Saute floured chicken thighs for a couple of minutes on both sides until lightly browned. Put on a plate or tray.

Deglaze the pan with 1.5 TBSP Fire Brew Immune and 1.5 TBS Moon Brew Calm. Add 1 cup chicken broth and capers.

Add chicken back in and cook covered for 5 to 7 minutes to 165 internal temperature.

Sprinkle with fresh parsley and serve.
Our Chicken Brewata pairs wonderfully with Einkorn pasta. Or, try alongside a delicious Einkorn bread, sliced, toasted, and topped with our Bagna Rossa Basil chunky Italian dip.
Calories:
411
kcal
Carbohydrates:
17
g
Protein:
24
g
Fat:
27
g
Saturated Fat:
7
g
Polyunsaturated Fat:
5
g
Monounsaturated Fat:
13
g
Trans Fat:
1
g
Cholesterol:
129
mg
Sodium:
322
mg
Potassium:
334
mg
Fiber:
1
g
Sugar:
1
g
Vitamin A:
111
IU
Vitamin C:
3
mg
Calcium:
21
mg
Iron:
2
mg