Meet the Italian apple crostata – a healthier spin on the classic American apple pie
It's no question that apple pie is America's pie. But with the average slice clocking in at 15-20 grams of sugar, it's time for a recipe refresh! 
As an Italian-American, I am always blending things that I love from both of my cultures. That's why I've put an Italian spin on the classic American apple pie to give this classic new depth and flavor – as well as better health benefits. 
Read on to find out why you need this Italian-American Apple Crostata at your next family gathering or holiday dessert table! 
3 Reasons to Try This Apple Crostata Recipe 
It's a balanced alternative to overly sugary pies.
Everyone loves a sugary pie, right? Not me. Growing up in Italy, I learned to love desserts that were less sweet than what most American children grow up eating. I didn't love the sweet, frosting-coated cakes that others did. Instead, I always preferred my slightly sweet crostatas and tarts. So much that I had them every year for my birthday "cake!"
Like the crostatas of my childhood, this recipe uses just a small amount of sugar and makes use of the natural sugars in the fruit to sweeten the tart.

Whenever I bring this crostata around for a party, even my friend's with a sweet tooth love them. They offer a more balanced flavor and don't leave you with a sugar crash afterwards. Because it's not too sweet, you can even enjoy it for breakfast, guilt-free.

But it's not just Italians who love less-sweet desserts. In fact, in 19th Century America, people also enjoyed pie more often as a breakfast dish than a sweet dessert. At this time in history, it's likely that they were made with much less sugar than in our modern day. Traditional pies were probably more similar to the Italian-style crostatas than today's high-sugar grocery store dessert. So, in a way we are making our way back to America's culinary roots! 
Colorful superfoods make this a healthy dessert (or breakfast) recipe.
In this recipe, I add powdered superfoods for two reasons. The first is to make the dough multiple shades of autumn leaf colors (which makes it the perfect dessert to bring to Thanksgiving dinner). Second, these superfood powders add a ton of nutritional value, antioxidants, and health benefits without adding extra fruit or veggies to this simple tart.

The superfood blends also enhance the health benefits of the other ingredients, like Einkorn wheat, bitter almond, and fruit. 
It blends the best of Italian and American treats. 
Anytime I can blend the best of Italian and American cooking, I know I'm in for a treat. That's how I feel about this apple crostata. It celebrates an American classic while bringing in Italian baking traditions that elevate the whole dessert to a new level.

What I love most, though, is sharing this apple crostata – and my varied heritage – with family and friends. I hope you enjoy sharing a delicious moment with your family over a hearty slice of apple crostata, too!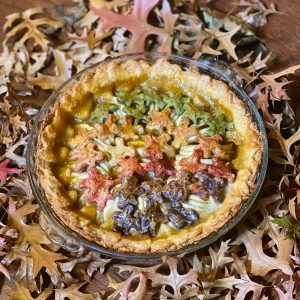 Apple Crostata
Dominique Debroux, Founder of AMF, Nutrition Addict
An easy, wonderful recipe that blends the best of Italian and American treats, it's the Italian spin on the apple pie.
Food processor

Measuring cups and spoons

Deep Pie Dish

Cookie cutters (optional)

Baking weights

Parchment paper

Rolling Pin

Cooling rack
Crust:
2

cups

Einkorn Wheat Flour

you can substitute any wheat flour and just use a little less water

4.5

TBS

sugar

1.5

tsp

salt

12

TBS

cold unsalted butter cut into small cubes

I use ½ ghee, deepens the taste and makes the crust more crumbly

6

TBS

cold water

Superfood powders like Matcha, beets, Goji berries, carrot, etc. to color part of your dough

This step is optional
Filling:
2/3

cup

Almond Apricot Jam

Or any jam of your choice

3

Honey Crisp apple

1

TBS

Lemon juice

1

TBS

Arrowroot dissolved in 1.5 tbsp. water
Make the crust:
Place flours, sugar, and salt into the food processor bowl and pulse a couple of times to mix.

Add the butter and pulse until the butter has become like couscous-sized balls in the dry mix.

While the machine is running, drizzle in water until the dough becomes a ball.

Divide 1/3 of the dough into 2 to 4 sections depending on how many colors you want to use.

Mix Superfood powders into each section to get the desired color.
Bake the crostata:
Preheat the oven to 375 degrees.

Roll out the 2/3rds uncolored dough to ¼ inch thickness and place in a greased deep-dish pie pan.

Poke holes with a fork around the dough.

Cover with parchment paper, fill with baking weights, and cook for 10 minutes.

While it cooks and cools, peel, core, quarter the apples.

Slice the quarters into thin slices (about an eighth of an inch thick) and mix them in with the lemon juice making sure that they have all been coated with lemon.

Fill the bottom of the crust with the jam.

Arrange the apple slices on their sides in a circular pattern.

Pour the Arrowroot slurry around the apples, mostly in the crevices.

With the rest of the uncolored dough, make a higher lip to your crust that also covers the apples a bit.

Roll out the colored doughs and cut out shapes to place on the apples.

Paint the exposed dough with an egg wash.

Bake for 50 to 60 minutes until the dough is golden brown.

Halfway through cover the edges with foil so they don't get overcooked.

Remove from oven when done baking and let set at least 20 minutes.
Use a clear pyrex dish so you can check the color of the dough as its cooking.
For the crust, I chose to cut out heart shapes and arrange them overlapping each other all the way around, but you can also roll out strips or make braids.
For the top layer, I made leaf shapes in fall colors and you can get as creative as you want!
Calories:
384
kcal
Carbohydrates:
52
g
Protein:
5
g
Fat:
18
g
Saturated Fat:
11
g
Polyunsaturated Fat:
1
g
Monounsaturated Fat:
4
g
Trans Fat:
1
g
Cholesterol:
45
mg
Sodium:
596
mg
Potassium:
96
mg
Fiber:
6
g
Sugar:
22
g
Vitamin A:
602
IU
Vitamin C:
6
mg
Calcium:
15
mg
Iron:
2
mg
Keyword
crostata, dessert, low sugar