One of my favorite meals to make Ropa Vieja with Bagna Rossa Basil. This dish is traditionally time-consuming, takes hours to braise the meat to the necessary flaky tenderness, but worth every minute. And now, with the help of a pressure cooker, you can save time and still enjoy this complex, succulent dish.
I can't tell you how many times my pressure cooker has saved the day – and dinner! This simple tool  is my secret weapon for making fast hearty dinners that taste like they cooked all day. With the help of a pressure cooker and a jar of Anna Maria's Bagna Basil, I can whip up a hearty and mouth-watering Ropa Vieja in a fraction of the time.
Read on to learn how to make your own fast and easy Ropa Vieja for dinner this week!
What is Ropa Vieja?

Ropa Vieja is a traditional Cuban dish, often served with rice, beans, or plantains. To make it, we braise flank steak or chuck roast in a delicious tomato and broth sauce for hours until it is tender. The name means "old clothes" because of the way the meat shreds into long fibers after stewing in the flavorful broth. 
I love this dish, but I just never seem to have time to plan ahead for it. The traditional recipe has a long list of steps for making the  broth, sauce, and meat separately. While I'm all about tradition, I'm also about saving time! So, I tried a new way…

When my husband Chris gave me a Breville Fast Slow Pro pressure cooker for the holidays one year, I knew this would be my secret for a fast and easy Ropa Vieja!

Since then, I have been delighting my family with Rockin' Ropa Vieja almost weekly. And they couldn't be happier! Now it's your turn…
Note: this recipe can be done using a slow cooker or a dutch oven, it just takes much longer to cook.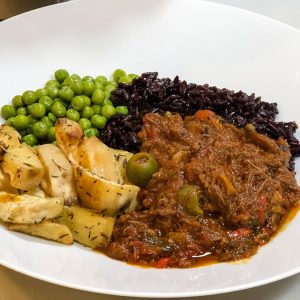 Fast and Easy Ropa Vieja Recipe
Dominique Debroux, Founder of AMF, Nutrition Addict
A family favorite, this recipe is sure to please. Use our own Bagna Rossa Basil sauce, or another quality chunky Italian tomato sauce in a pressure cooker to make it fast enough for dinner.
Pressure cooker, or slow cooker or dutch oven

Chopping knives

Cutting board

Shredding claws or 2 forks
2

pound

chuck roast

cut higher than wider

1

tablespoon

olive oil

extra virgin

1

large yellow onion

sliced

1

red bell pepper

sliced

1

yellow bell pepper

sliced

2

cloves

garlic

minced

3

teaspoons

dried oregano

2

teaspoons

ground cumin

3

teaspoons

paprika

1/4

teaspoon

ground allspice

1/8

teaspoon

ground cloves

2

teaspoons

sea salt

1/2

teaspoon

freshly ground black pepper

1/2

cup

red wine

1

cup

chicken broth

or beef broth

16

oz

AnnaMaria's Bagna Rosa Basil

one jar

6

oz

tomato paste

1 can

2

bay leaves

1

cup

green olives

coarsely chopped

1/2

cup

roasted red bell peppers

drained and chopped

1/4

cup

pimientos

drained

3

tablespoons

capers

drained

1/3

cup

fresh cilantro

chopped
Set pressure cooker to "sear."

Prepare roast. Season with salt and pepper on all sides.

When the pressure cooker is heated, pour the oil and brown the roast on all sides, about 2 to 3 minutes per side.

Set aside.

Set pressure cooker to "sauté".

Chop the onion and peppers in slices.

Put them all in the cooker and sauté until they are soft.

Add the minced garlic and brown slightly.

Add the wine and let sizzle to deglaze the bottom.

Add broth, Bagna Basil, tomato paste, salt, pepper, herbs, spices and bay leaves.

Mix well and add back the roast.

Close the lid, set the pressure cooker to high for 40 minutes.

After 40 minutes, let the machine relieve pressure naturally so that the meat stays moist.

Once the pressure has been let out, take the roast out and shred it with shredding claws or 2 forks.

Remove the bay leaves from the sauce, set the cooker to "reduce" and put in the olives, roasted peppers, pimentos, capers and cilantro.

Simmer with the lid open for 7 to 15 minutes (less time for a looser sauce, more time for a thicker sauce).

Add the shredded chuck and you are ready to serve!
This recipe can be made in a slow cooker or dutch oven, it just takes longer.
Slow cooker: 3.5 to 4 hours at med-high.
Dutch Oven: 3.5 to 4 hours simmered on the stove.
I served my ropa non-traditionally with black rice, peas and roasted sweet potato. You can go more traditional with rice and beans and plantains.
I used Bagna Rossa Basil in this recipe as it offers a more basic flavor, but you can go for the Bagna Rossa Spicy if you want a bit of heat.
This recipe makes wonderful left-overs and heats up perfectly the next day. Try heating it up alone, or make it into tacos or burritos.
Calories:
589
kcal
Carbohydrates:
18
g
Protein:
47
g
Fat:
36
g
Saturated Fat:
13
g
Polyunsaturated Fat:
3
g
Monounsaturated Fat:
20
g
Trans Fat:
2
g
Cholesterol:
156
mg
Sodium:
2836
mg
Potassium:
1520
mg
Fiber:
5
g
Sugar:
7
g
Vitamin A:
2471
IU
Vitamin C:
130
mg
Calcium:
134
mg
Iron:
8
mg