Have Your Chocolate Cheesecake and Eat Healthy Too
Who says you have to skip out on decadent cheesecake, just because you want to eat healthy? With this chocolate cheesecake tart, you'll be able to enjoy a sweet treat without the extra calories or the guilt. 
Read on to learn how to make a decadent chocolate cheesecake tart that's safe for those on gluten-free diets, or those who simply want to eat lighter.
What Makes this Chocolate Cheesecake So Light?
Cheesecake is by nature a rich and heavy dessert – but it doesn't have to be! With a few simple swaps, we've made our chocolate cheesecake tart just as delicious as regular cheesecake but without excess sugar, fat, and calories.

That being said, it can be hard to get the right texture and rich flavor with "lite" and low fat ingredients. Instead, we're using naturally lighter products to cut back on fat, carbs, and refined sugars. Here's what makes this tart so deliciously healthy:
Mascarpone Cheese
Traditional cheesecakes are made with cream cheese, but we've chosen the lighter Italian cheese mascarpone for our tart. Mascarpone is still rich and velvety, but has less fat and calories than cream cheese.
Low Sugar Strawberry Rose Glaze
We're using our Anna Maria's Strawberry Rose Jam as glaze for this tart. This jam is sweet and fruity, but without all the added sugars of other strawberry jams. And believe me – you won't miss that extra sugar! Just a light glaze on top gives the perfect balance to the rich bitterness of the cocoa and the smoothness of the mascarpone.
Gluten-Free Flours
Using gluten-free flours like the cup4cup flour and almond flour makes this tart gluten-free and reduces the potential inflammatory effects of traditional wheat flour. That means you can indulge in this semi-sweet dessert without the bloating and digestive upset afterwards. Plus these alternative flours add a nutty richness to the tart crust that pairs perfectly with chocolate!
 
A Lighter Version of Classic Chocolate Cheesecake Perfect for Celebrations (or any day)
This lighter, fluffier version of chocolate cheesecake is perfect at anytime of year -especially the holidays. In fact, it is one of my favorite desserts to make for celebrating Valentine's Day, Christmas, or even an elegant birthday. 
What makes it such a perfect holiday recipe? The strawberry rose glaze, made with AnnaMaria's Strawberry Rose Jam feels like a shot of spring as its getting cold outside. Second, the jam combined with the mascarpone chocolate cake energize so many taste buds that you won't need to eat a huge portion to feel satisfied. (Although, honestly, sometimes I can't help going for the 2nd and 3rd slice!)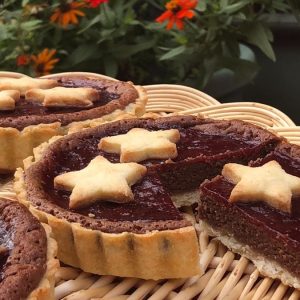 Gluten-Free Chocolate Cheesecake Tart with Strawberry Rose Glaze
Dominique Debroux, Founder of AMF, Nutrition Addict
Enjoy this recipe for a light and fluffy gluten free version of the chocolate cheesecake at anytime of year, especially the holidays without compromising on chocolatey decadence.
Cuisine
Italian, Piemontese
Food processor

Measuring cups

Large tart pan or 6 mini tartlet pans

Cookie cutters (optional)

Baking weights

Parchment paper

Baking sheet

Large bowl or stand mixer

Cooling rack

Spoon or icing knife for glaze
Filling:
300

g

mascarpone cheese

10.5oz

300

g

caster sugar

10.5oz

½

cup

cocoa powder

unsweetened

4

eggs

whole, slightly beaten

4

egg yolks
Glaze:
Make the Crust:
Preheat the oven to 375 degrees.

Place flours, sugar, and salt into the food processor bowl and pulse a couple of times to mix.

Add the butter and pulse until the butter has become like couscous-sized balls in the dry mix. While the machine is running, drizzle in water until the dough becomes a ball.

Transfer the dough into a lightly floured bowl and quickly form it into a flat disk.

Roll out the tart. Roll the dough in a circle ¼ thick and pat it into a tart pan with removable bottom, cutting the dough flush at the edges. Or 6 smaller tartlet pans, you choose, both are pictured.

Re-roll the cut-off dough and form 2 decorative cookies (I choose stars for this one).

Place a bowl of parchment paper into the tart and fill with baking weights.

Bake the tart until it is only partly cooked; about 10 minutes.

Remove the parchment paper and weights and cook for 5 more minutes.

Cook the decorative cookies on a non-stick baking sheet all the way through, 8 to 12 minutes depending on the thickness. They are done if you poke with a finger and the dough bounces back.
Make the filling:
Beat the mascarpone, sugar, and cocoa in a stand mixer until very smooth.

Beat in the eggs and yolks until well combined.
Fill and finish:
Fill the crust with the mascarpone filling. Bake for another 20 to 30 minutes or until a toothpick poked in the middle comes out smooth. The filling will rise up in a dome as it cooks, but don't worry. It will flatten as it cools.

Place on a cooling rack. When the filling starts flattening and is still a bit warm, spread the Strawberry Rose jam. I usually use a bit more than a half jar. Place your cookies in your desired decoration and place them in the fridge to finish cooling.

Take your tart out of the fridge 20 minutes before serving.
Don't worry if your tart dough comes out too wet or too dry. You can just add flour or water until it forms a non-sticky disc. Wrap it in plastic wrap and let it rest in the refrigerator for at least an hour or up to a day.
If you don't have pastry weights, you can use dried beans.
You can adjust the cocoa powder to your taste. Use a little less for a less intense chocolate flavor, or a little more for a dark chocolate style.
If you don't have caster sugar, you can create it by putting regular sugar in the food processor for a few minutes. Just know that it will scratch your plastic bowl slightly.
Try glazing your tart with Almond Apricot Jam for a nuttier finish.
Consider other toppings like chopped or flaked almonds, coconut, or strawberries.
Calories:
425
kcal
Carbohydrates:
40
g
Protein:
7
g
Fat:
25
g
Saturated Fat:
13
g
Polyunsaturated Fat:
1
g
Monounsaturated Fat:
4
g
Trans Fat:
1
g
Cholesterol:
166
mg
Sodium:
268
mg
Potassium:
84
mg
Fiber:
3
g
Sugar:
37
g
Vitamin A:
762
IU
Calcium:
72
mg
Iron:
1
mg
Keyword
dessert, gluten-free, healthy