A Lighter Version for the Chocolate Cheesecake Lover
There are some recipes that simply change your life – like my Einkorn sourdough recipe that has allowed me to eat bread guilt-free and symptom-free. 
Another gamechanger was this gluten-free chocolate cheesecake tart with rose jam. It's so delicious, you'd never know it was actually a pretty healthy dessert!
I know you're going to love this tart just like I do. But before I give up the recipe, I want to share a few reasons why this chocolate cheesecake tart is one of my all-time favorite desserts:
1. It's a light treat for the health-conscious chocolate cheesecake lover.
I hate depriving myself of the foods I love. Not only does it work against my philosophy to eat in tune with what your body craves, but it also makes life so dull! And with a bounty of delicious food to enjoy, why settle for dull?

But, I'm also trying to live in balance and stay healthy. This tart is the best of both worlds – a delicious treat made with healthier, lighter ingredients that support my health goals. 

First, the Strawberry Rose Jam is low-sugar and made from the best strawberries we can find.
Second, the jam together with the mascarpone chocolate cake energizes so many taste buds that I don't need to eat a lot to feel satisfied. Although, honestly, sometimes I can't help going for the 2nd and 3rd slice!
And Third, the gluten-free crust means I can enjoy my treat without the bloating, inflammation, and tummy upset that traditional tarts give me.

2. It's the perfect treat for any celebration.
I love this lighter, fluffier version of chocolate cheesecake at any time of year. But, it's even better for a celebration!
Valentine's Day 

What says love more than chocolate and roses?! These tarts look impressive, but they're simple and easy to make. Plus, there's plenty to share! Cuddle up with a slice of cheesecake and reminisce on all the good times you've shared.
Mother's Day


Not sure what to give mom on her special day? Bake this cheesecake and show her how sweet she is! Taking the time to bake something special can be so much more meaningful than grabbing a quick bouquet of flowers or chocolates at the supermarket. Plus, the Strawberry Rose glaze is a delicious embodiment of spring and all the summer days we have to look forward to in May. 
Christmas


Christmastime is full of overly sugary snacks, but this tart offers a more grown-up take on a special dessert. Because it's low-fuss and gluten-free, it's the ideal bring-along for holiday parties and pot-lucks. 
3. It's gluten-free!

I mentioned this already but it bears repeating as good gluten-free desserts aren't always easy to come by. The gluten-free crust on this tart makes it safe for those with gluten sensitivity or gluten allergies to enjoy. Feel free to experiment with different gluten-free flours to see how it subtly changes the flavor. For instance, almond flour would give a delicious nuttiness to blend with the chocolate, while Einkorn flour offers a more toasty, earthy flavor. Both delicious if you ask me!
Making the Chocolate Cheesecake Tart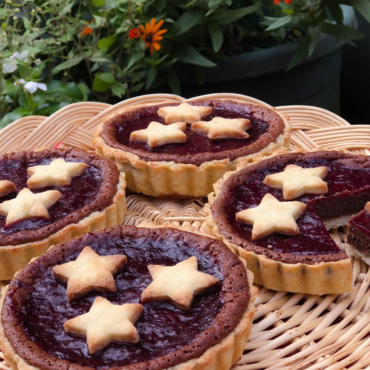 Strawberry-Rose Jam Glazed Gluten-Free Chocolate Cheesecake Tart
This easy to make chocolate cheesecake tart is a lighter take on everyone's favorite cheesecake, and as a bonus, it is gluten-free.
Equipment
Food processor

Stand mixer

Mixing bowl

Tart pan (or 6 tartlet pans)

Non stick baking sheet

Baking weights

Parchment paper

Plastic cling wrap

Cookie cutter(s)

Mixing spoon(s)
Ingredients
Crust
1

cup

gluten-free flour

such as cup4cup (my choice)

⅓

cup

almond flour

generous

3

tbsp

sugar

1

tsp

salt

8

tbsp

unsalted, cold butter

cut into half inch cubes

3-4

tbsp

water

ice cold preferred
Filling
300

g

mascarpone cheese

10.5 oz

300

g

caster sugar

10.5 oz. You can create caster sugar by putting regular sugar in the food processor for a few minutes, FYI it will mark up your plastic bowl.

½

cup

unsweetened cocoa powder

this can be adjusted to your taste, I like it dark chocolate style

4

whole eggs

lightly beaten (add egg yolks)

4

egg yolks

lightly beaten (add to the whole eggs)
Instructions
Preheat the oven to 375 degrees.
Prepare the Crust
Place flours, sugar, and salt into the food processor bowl and pulse a couple of times to mix.

Add the butter and pulse until the butter has become couscous-size balls in the dry mix.

While the machine is running drizzle in the water until the dough becomes a ball.

Transfer the dough into a lightly floured bowl.

Form dough into a flat, non-sticky disk, adding water and flour as needed to obtain the right consistency.

Wrap dough disc in plastic wrap and let it rest in the refrigerator for at least an hour or up to a day.
Roll Out and Bake Crust
Roll the dough in a circle ¼ thick and pat it into a tart pan with removable bottom, cutting the dough flush at the edges. Or 6 smaller tartlet pans, you choose (both are pictured).

Re-roll the excess cut-off dough and form 2 decorative cookies using cookie cutters of your choice (I chose stars for this one).

Place a bowl or parchment paper into the tart and fill with baking weights. Bake the tart until it is only partly cooked; about 10 minutes. Remove the parchment paper and weights and cook for 5 more minutes.

Bake the decorative cookies on a nonstick baking sheet all the way through, 8 to 12 minutes depending on the thickness. They are done if you poke with a finger and the dough bounces back.
Make Filling
Beat the mascarpone, sugar, and cocoa in a stand mixer until very smooth.

Beat in the eggs and yolks until well combined.
Fill and Glaze
Fill the crust with the mascarpone filling. Bake for another 20 to 30 minutes or until a toothpick poked in the middle comes out smooth. The filling will rise up as a dome as it cooks, it will flatten as it cools.

Place on a cooling rack. Place your cookies in your desired decoration and place them in the fridge to finish cooling.

When the filling starts flattening and is still a bit warm, spread the Strawberry Rose Jam. I usually use a bit more than a half jar.

Take your tart out of the fridge 20 minutes before serving.
Nutrition
Calories:
775
kcal
Carbohydrates:
78
g
Protein:
14
g
Fat:
48
g
Saturated Fat:
26
g
Trans Fat:
1
g
Cholesterol:
329
mg
Sodium:
598
mg
Potassium:
169
mg
Fiber:
5
g
Sugar:
57
g
Vitamin A:
1498
IU
Vitamin C:
1
mg
Calcium:
143
mg
Iron:
3
mg