[vc_row][vc_column][vc_column_text]These days, it seems like everyone is trying to eat clean and make better food choices. As someone who has experienced the life-changing effects of the right diet first-hand, I'm all for it!  
In fact, helping you find a healthier way to enjoy food is why I'm here. I want to feed your mind with tips and feed your belly with delicious recipes that are good for you too. 
Zucchini noodles have been one of those lifesaver recipe hacks for me. It's true – as an Italian foodie, I'll never stop loving traditional pasta. But, these zucchini noodles are a fun swap when you want to eat lighter, boost your veggie intake, or simply try something new. 
This keto shrimp and zucchini noodle recipe is so simple and so full of flavor that you'll never miss the "real" noodles. Let's get cooking!
Zucchini Noodles: A Healthy and Tasty Alternative to Pasta
First things first – why zucchini noodles? 
For anyone on a ketogenic diet or gluten-free diet, veggie-based noodles are the perfect pasta replacement and an easy way to enjoy dishes like pasta without carbs or gluten. 
Plus, zucchini is packed with nutrients. It is low in calories, and high in water and fiber. It's full of vitamins and minerals, especially vitamin A. Zucchini is also rich in antioxidants and carotenoids like lutein and beta carotene. 
There's a long list of zucchini health benefits, too. It has been shown to keep blood sugar levels balanced, improve heart health, strengthen bones, and may even protect against cancers. 
Lastly, I love these zucchini noodles because they are a homegrown Italian favorite! While squashes are typically native to America, the zucchini originated in Italy in the 1800s. They are not only an extremely healthy choice but are so simple to cook and taste great with nearly any topping – especially Italian pasta sauces. 
How to Make Perfect Zucchini Noodles
When I first noticed zucchini noodles pop up on the scene, I ordered a cheap spiralizer online  and decided to make them myself. It's easy to do, taking as much effort as grating cheese. 
Don't have a spiralizer? You can use a vegetable peeler to make wider pappardelle-shaped strips or cut those in half to make a Fettucine style. 
But now that they've become so trendy, most grocery stores have a precut version ready to go. No prep work needed! 
Whether you are making them yourself or buying pre-cut noodles, this recipe can be thrown together in about 15 minutes.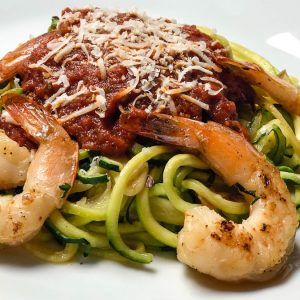 Gluten-Free Keto Shrimp and Zucchini Noodles
Anna Maria
For anyone on a ketogenic diet or gluten-free diet, veggie-based noodles, such as zucchini, are the perfect pasta replacement and an easy way to enjoy dishes like pasta without carbs or gluten. Enjoy this simple recipe that combines basic, healthy and delicious ingredients.
Cuisine
Italian, Mediterranean, Piemontese
Spiralizer

Chef's knife

Cutting board

Large saucepan
1

lb

zucchini noodles

store bought or home cut

1

jar

AnnaMaria's Torino Tomato Sauce This recipe also works well with either our Milano or Pinerolo Tomato Sauces

2

garlic cloves

sliced

1

shallot

sliced

3

tbsp

olive oil

extra virgin

1

lb

jumbo shrimp

peeled and deveined

2

tbsp

fresh parsley

chopped

salt and pepper

to taste

grated parmesan cheese

optional
Slice the shallots and garlic. Chop the parsley. Season both sides of the shrimp with salt and pepper. Prepare your zucchini noodles, if needed.

Heat up the olive oil in a nonstick pan. Toss in the shallots and garlic. Let them sauté for about 3 minutes until they being to soften.

Add your shrimp, cooking each side for about 2 minutes. You may want to cook the shrimp in two batches so they don't over crowd the pan and can cook evenly. Once they are cooked, remove the shrimp and set them aside.

Add the zucchini noodles to the remaining shallots, garlic and olive oil. Season with a bit of salt and pepper. Cook for 2-3 minutes. Since zucchini is 96% water, overcooking it will release a lot of excess juice and leave the dish watery, so with this dish, less is more. The goal is to just warm up and soften the zucchini and give it a chance to soak in the flavor of the other ingredients.

Once the zucchini is cooked, set it aside and add in 1 jar of AnnaMaria's Torino Tomato sauce to the pan. Warming the sauce should only take a minute or two and then it's time to plate your dish! Spoon some Torino onto your delicious zucchini noodles, arrange your shrimp and top with grated parmesan cheese. Healthy, easy, and delicious!
Serving:
1
cup
Calories:
274
kcal
Carbohydrates:
14
g
Protein:
27
g
Fat:
13
g
Saturated Fat:
2
g
Cholesterol:
286
mg
Sodium:
1783
mg
Potassium:
987
mg
Fiber:
4
g
Sugar:
11
g
Vitamin A:
1132
IU
Vitamin C:
40
mg
Calcium:
213
mg
Iron:
5
mg
Keyword
gluten-free, healthy, keto, nutritious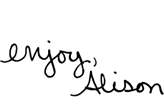 [/vc_column_text][/vc_column][/vc_row]