Who says snack time can't be elegant?
Do as the Italians do and make yourself a snack worth savoring (and sharing), with our family's very own radicchio marmalade as the crown ingredient.
In my house, snack time is as much a meal as anything else. Growing up in Italy, I was surrounded by amazing home cooks (like my mother and grandmother) who could make even the simplest fresh foods into a special snack. So now, I'm never fully satisfied with the typical convenience snacks – I would much rather enjoy something fresh. 
But, as you can probably relate, I don't always have the time to whip up a fancy snack. That's why I love keeping a few strategic pantry staples on hand. My go-to is our family recipe, handmade, small batch Radicchio Marmalade. It's unique, flavorful, and can transform even a simple snack into an elevated experience. 
Since I know you love a good snack too, I can't wait to share one of my favorite Radicchio Marmalade recipes with you: my Radicchio Marmalade and Goat Cheese Terrine. Read on to get the scoop on Radicchio Marmalade and how to make this simple, elevated snack!
What is Radicchio Marmalade?
Radicchio Marmalade is one of the most surprising products we make at AnnaMaria's. We get so many questions from curious cooks about what it tastes like and how to use it. 
A spread made with citrus and spice-infused radicchio. If you've ever had radicchio raw, you'll know that it can be quite bitter. But when prepared as a marmalade, it becomes both sweet and savory with a deep flavor. 
So, how do you eat this tasty spread? Well, there's really no wrong way to use it! It works great as a condiment on sandwiches, a vibrant addition to your charcuterie boards, or as a perfect accompaniment to cheeses, like in our goat cheese terrine.
Radicchio Marmalade is a Homemade Favorite in Italy
In Northern Italy, Radicchio Marmalade is extremely popular, but also extremely hard to find in markets. It's usually made at home, every family with their own favorite recipe.
In some ways, Radicchio Marmalade is partially what inspired us to start AnnaMaria's in the first place! My daughter and I wanted to share the recipes our family has always enjoyed with others. We knew if people could taste the flavors of our family home, they would fall in love with food again. 
Our  Radicchio Marmalade  was one of the first things we knew we wanted others to be able to put on their tables. As it turned out, it is a crowd-pleaser just as we suspected!
One of my favorite ways to eat it is with goat cheese on crackers or crusty bread, like our wholesome, gluten-sensitive-friendly Einkorn sourdough, so I created this beautiful terrine for my Italian group. My friends all love AnnaMaria's, so I knew this recipe would be perfect for our monthly meetings. 
But you don't need a special occasion to make this special snack. Just a few minutes, a food processor, and a friend to share. Let's eat and enjoy! Or as we say in Italy: Mangia Mangia!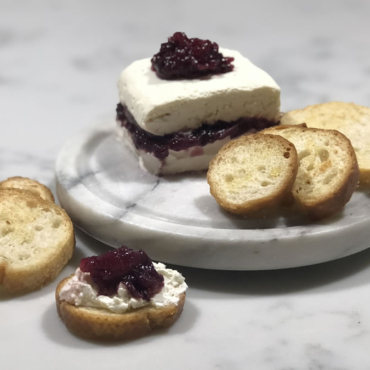 Radicchio Marmalade and Goat Cheese Terrine
Our Radicchio Marmalade was one of the first items we knew we wanted others to be able to put on their tables, and one of our favorite ways to eat it is with goat cheese on crackers or crusty bread, so we created this beautiful terrine, the perfect recipe to share with friends that showcases AnnaMaria's amazing Radicchio Marmalade. It's an easy, exotic crowd pleaser. Serve this instead of typical dips and chips.
Equipment
Food processor

Oblong (5x9) pan

Parchment paper

Spatula
Ingredients
16

oz

Fresh goat cheese

16

oz

Cream cheese
Instructions
Oil an oblong (5×9) pan and line it with parchment paper.

In a food processor, blend the goat cheese and cream cheese until it forms a smooth cream.

Spread half of the cream evenly at the bottom of the mold using a wet spatula.

Refrigerate until the surface feels firm (about 20 min).

Decorate the top with the rest of the jar of marmalade. And serve it as a spread with crusty bread (like our healthy, wholesome and delicious Einkorn sourdough), crostini or crackers.
Notes
This recipe makes a wonderful centerpiece for your charcuterie and cheese board. We love to spread it on crostini, crackers, or our wonderful Einkorn sourdough. 
Nutrition
Calories:
459
kcal
Carbohydrates:
3
g
Protein:
18
g
Fat:
42
g
Saturated Fat:
26
g
Cholesterol:
118
mg
Sodium:
521
mg
Potassium:
124
mg
Fiber:
1
g
Sugar:
3
g
Vitamin A:
1796
IU
Vitamin C:
1
mg
Calcium:
180
mg
Iron:
2
mg