Foraging for mushrooms in the Piemontese Alps
Even thousands of miles away, the transition to colder weather in America still brings me back to the falls and winters of Northwestern Italy, in the breathtaking region of Piemonte. Piedmont, or Piemonte in Italian, comes from medieval Latin Pedemontium or Pedemontis, at the foot of the mountain, with the Alps rising above the region.
When I was a young girl, this is the time of year when I would join my mother and grandmother to trek through the Alpine forests and hunt for wild mushrooms. There were some long days, but the thought of a belly-warming mushroom risotto at the end of the day was always worth the hunt.
Our chosen territory was picturesque Sestriere, a village on the outskirts of Turin best known for its daunting ski slopes (featured in the 2006 Olympics).
The hills of Sestriere do offer great skiing – in fact, those beautiful slopes are exactly where I first set foot on skis at the young age of 3 years old. I'm pretty certain I learned to ski before I even learned to walk!
But before the first snow fell, this was where we would fill our baskets with earthy mushrooms, ready to add to our favorite autumn dishes back home. 
Even years later, I still can't think of a better way to enjoy fresh autumn mushrooms than a delicious mushroom risotto – in the classic Piemontese style, of course!
Authentic Piemontese mushroom risotto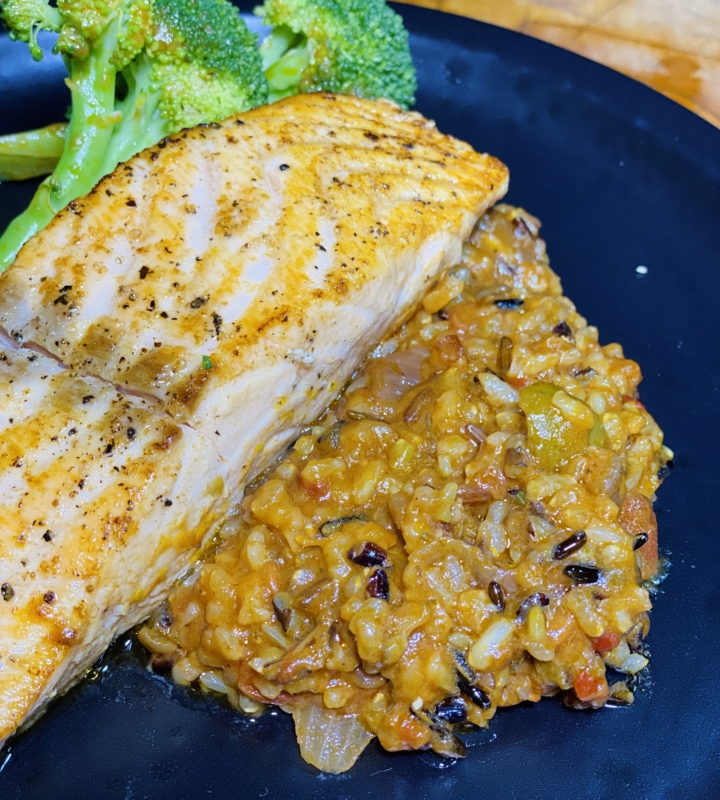 INGREDIENTS
1 pound of a mix of mushrooms, chopped, whatever you find at your local farmers market is best or if at the grocery store get 1/2 Cremini and 1/2 Shiitake
7 grams dry porcini mushrooms, reconstituted in a bit of hot water
1 small white onion, chopped small
2 cups Arborio White Rice
3 cups clear vegetable broth or chicken broth
1 TBS butter
2 TBS EVO
1/2 cup grated parmesan cheese
Preparing the risotto:
Double rinse and strain the rice.
Place the broth in a saucepan, heat it up and keep it on low heat.
In a large deep pan or a medium saucepan saute the onion in the butter and oil. When soft and starting to get clear add the mushrooms (not the re-constituted porcini yet). Sautés until they are toasted. Now add the porcini and their water and add the rice.
Saute the rice for 2 minutes and start adding the broth a large ladle at a time. When each ladle of broth has been absorbed, add the next. It should be on medium heat and you need to stir the rice frequently, risotto needs to be babysat.
After 2 cups of broth have been absorbed, start tasting the rice. If it is "al dente", with a small crunch still in the middle, then it is done. Depending on the rice and the level of the heat sometimes it takes more broth and sometimes less, so its important to taste.
Once "al dente" add the parmesan cheese, stir until it is well melted, and serve!

Now, I hope that this recipe inspires you to put on your boots and spend a day foraging for mushrooms. But, as my mother would say, you better be trained well! Not all wild mushrooms are good for eating – and certain ones can even be dangerous. 
Growing up, I can clearly picture my mother carefully picking out the best ones and inspecting them. When we brought her our own bounties, she'd take a nibble out of any and see if they made her feel ill. Can you imagine the suspense?! When they passed the test, we could finally eat them! 
When you do your own foraging, be sure to go with a knowledgeable forager and never eat a mushroom you don't recognize as safe. Better yet, shop at your local farmers' market or neighborhood grocer for safe and delicious mushrooms for your mushroom risotto.