Sunchokes are a Staple of Piemontese Cuisine
Sunchokes, also called Jerusalem artichokes, hold a special place in my heart. Mostly because they remind me of my home away from home – the rich and earthy Piemonte region where they are a popular treat. Here, they call them "Topinambur," which is such a fabulous Italian word!
Aside from the fact they remind me of Italy, I also love sunchokes because they are so full of nutrients that they are basically a superfood. 
I know that if you try them, you'll love them just as much as I do. Let's explore why these little tubers are so good for you, as well as how you can use Jerusalem artichokes in your own recipes!
What is a Sunchoke?
And while they are called Jerusalem artichoke, don't let the artichoke in the name fool you – they are nothing like artichokes! 
In fact, these knobby little tubers are part of the sunflower family (why they're called sunchokes) and have a sweet and nutty flavor. They look a little like ginger root with the starchy consistency of a potato and taste a little like chestnuts (when cooked) or jicamas (when raw). 
While sunchokes are native to North America (and were commonly used by the natives), they aren't always so commonly seen in grocery stores around America, Back in Piemonte, Italy and the surrounding regions, however, they are a staple food. Here, the people use them in simple yet hearty dishes, or to add a fresh crunch to salads and raw dishes. 

The Health Benefits of Sunchokes
Jerusalem artichokes are rich in many vitamins and minerals, including vitamin C, iron, and potassium.
Boost gut health.
They are also rich in an important fiber called inulin. Inulin is a prebiotic fiber that feeds your good gut bacteria and improves the balance of your gut microbiome. 
Increase energy and immunity.


Jerusalem artichokes are

rich in iron

. Without enough iron, our cells don't get the oxygen they need to work efficiently. As a result, our immune system declines and we feel exhausted. Jerusalem artichokes can help reduce iron deficiency and boost our overall energy. They contain as much iron as a 3-oz cut of meat, with no fat and very few calories, making them a great addition to any weight management diet plan or vegetarian diet. 
Improve blood sugar balance.


Managing your blood sugar is important whether you have a metabolic disorder (like diabetes) or not. In many cases, unregulated blood sugar is the culprit behind mood swings, brain fog, anxiety, and poor focus. The high levels of

blood glucose-stabilizing inulin

in Jerusalem artichokes can help to balance blood sugar levels over time. 

How to Add Sunchokes to Your Diet
If you want to reap all the great health benefits of Jerusalem artichokes, but don't know what to do with them, don't fret! They may look a little strange, but they are one of the simplest new ingredients to add to your repertoire, with simple recipes. 
To prepare them, simply brush them clean and wash them. No need to peel, but do make sure there's no lingering soil. If needed, use a paring knife to remove any impurities. For the best results, drop them into a bowl of cold water and lemon juice after washing to keep them browning while you prepare them. 
Eat them raw.


While sunchokes are like potatoes in many ways, they differ in that they can be eaten raw. They make for a truly unique addition to your typical salads or coleslaws – simply shred and add them in as you would shredded carrots.



Steam or boil them.


For a simple and light dish, steam or boil Jerusalem artichokes until soft (about 10-15 minutes). You can also add them to soups, or trade in tired, old potato leek soup for an exotic sunchoke version.



Roast them.


Want a super simple recipe that will impress anyone? Roast sunchokes by cutting them into 1-inch chunks, tossing them with olive oil and salt, and baking them at 350 degrees for 35-45 minutes, or until tender. 





Then, serve with a warm bowl of

bagna cauda.

Bagna cauda is like a Piemontese version of fondue, but instead of cheese, we use a warm blend of oil, vinegar, garlic, and anchovies for some serious flavor.





The starchy texture of the sunchoke is perfect for dipping into bagna cauda. Pair with slices of rustic Einkorn bread and a few fresh crudités for a real treat.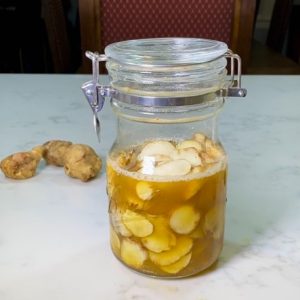 Sunchokes Pickled in Apple Cider Vinegar
Dominique Debroux, Founder of AMF, Nutrition Addict
Easy, tasty recipe for pickled Jerusalem Artichoke.
Cuisine
Italian, Piemontese
Mason Jar

Cutting board

Sharp knife
3

cups

sliced sunchokes

aka Jerusalem Artichokes

1

cup

Cider Vinegar

we love Mind Your Manna's Fire Brew Cider Vinegar Tonic

½

cup

water

2

tbsp

honey

1.5

tsp

salt

1

tsp

mustard powder
In a glass jar or bowl, dissolve the honey, salt and mustard in the vinegar & water

Put the sunchokes in the jar so that they are covered with liquid

Let rest in the fridge for 48 hours
Calories:
129
kcal
Carbohydrates:
29
g
Protein:
2
g
Fat:
1
g
Saturated Fat:
1
g
Sodium:
882
mg
Potassium:
536
mg
Fiber:
2
g
Sugar:
20
g
Vitamin A:
23
IU
Vitamin C:
5
mg
Calcium:
23
mg
Iron:
4
mg
Keyword
Jerusalem Artichoke, Sunchoke