Or kale, swiss chard, any bitter greens really!
I love the health benefits of all bitter greens, but I rarely have time to slow-braise them to bring out the sweetness. But, I found the perfect solution: a quick sauté with Bell Pepper Jam makes these greens flavorful, sweet, and full of nutrients. And ready to eat in 10 minutes!
Read on to learn how you can reap the benefits of delicious bitter greens – and my tried-and-true family-approved recipe for delicious, quick, and easy collard greens!
Do You Really Need to Eat Your Greens?
Green vegetables are the notorious foes of all picky eaters out there. I get it! They can be bitter and a lot less appealing than more decadent sides like mashed potatoes. But with the right preparation, you'll learn to love your greens. 
And why should you love your greens? Because they are so good for you that it would be a shame to miss out! They are essential to a healthy diet, offering tons of vitamins, minerals, antioxidants, and other health benefits. 

The Many Health Benefits of Collard Greens:
They are packed with antioxidants.


Greens are full of various

phytochemicals

and antioxidant compounds. Antioxidants help us stay healthy by fighting free radical damage and inflammation. Not to mention, antioxidants help to slow the signs of aging to keep you looking and feeling youthful through the years.

They are rich in vitamins.


Calcium, magnesium, potassium, vitamin K, B vitamins – the list goes on. Green veggies are one of the easiest ways to get a wide range of vitamins your body needs for bone health, cardiovascular health, endocrine health, and brain health.

They help you manage your weight and prevent diabetes. 


Green vegetables are low in calories and full of fiber – two things that help you keep your weight under control. Including greens like collards or kale in your pasta, soups, and salads helps to bulk up your meals and reduce your hunger.

They boost the immune system.


Greens are high in antioxidants, beta-carotene, and vitamin A – all of which support a

strong immune system.
How to Eat More Greens – the Easy Way
While a big plate of kale salad or collard green stew is a great way to get your greens, there are so many other ways to make greens part of your daily diet. 
Here are some sneaky ways to get more greens:
Chop them finely, then add to meatballs. 

Blend into fruit smoothies. 

Bake them into a breakfast or lunch frittata. 

Add them to stuffed pasta dishes like ravioli or manicotti. 

Bulk up your pesto or bean dip with a handful of greens.
Make Your Own Delicious Collard Greens
While it's ever so easy to slip in a few secret greens to your meals, that doesn't mean you can't just eat them plain and simple. If you're a greens lover like me, sautéed collard greens are the perfect weeknight side to nearly any dish. They cook up in a flash and you can flavor them however you like!
For example, I cooked up some collard greens and frisee lettuce from this weekend's farmer's market, and the results were yummy as usual! The whole family loved them (even the kids). 
Here's how to make your own!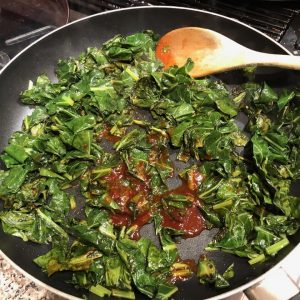 Sauteed Collard Greens with Bell Pepper Jam
Dominique Debroux, Founder of AMF, Nutrition Addict
Sautéed collard greens are the perfect weeknight side to nearly any dish. They cook up in a flash and you can flavor them however you like! Here we pick our favorite AnnaMaria's Bell Pepper Jam.
2

bunch(es)

collard greens

1

bunch(es)

frisee lettuce

2

tbsp

olive oil

extra virgin (EVOO)

2

tbsp

AnnaMaria's Bell Pepper Jam

1

tbsp

apple cider vinegar

salt

to taste
Chop washed collard greens and frisee lettuce into large pieces. 

Heat oil in a large saucepan and add collard greens. 

Cover pan to steam, open to stir, and repeat until collards are well wilted. 

Add the chopped frisee lettuce and stir and steam like before. 

Mix the Bell Pepper Jam and cider vinegar for the dressing.

Add dressing to greens and stir and steam to your desired consistency (I like to retain a bit of crunch in mine). 
Calories:
63
kcal
Carbohydrates:
1
g
Protein:
1
g
Fat:
7
g
Saturated Fat:
1
g
Sodium:
1
mg
Potassium:
5
mg
Fiber:
1
g
Sugar:
1
g
Vitamin A:
39
IU
Vitamin C:
1
mg
Calcium:
2
mg
Iron:
1
mg
Keyword
greens, healthy, nutritious