The Time Has Arrived for Belly Warming Fall Flavors
As summer starts to cool off, have you found yourself craving those cozy fall flavors?! 
Perhaps we aren't quite ready for hearty casseroles and pot roasts yet, but this late harvest time is perfect for enjoying the early flavors of fall. 
When the cooler weather hits, I love to make one of my favorite pasta dishes of all time: My Out of the Ordinary Chicken Sausage and Peppers with Pinerolo Tomato Sauce. It's tasty, easy, and a perfect way to transition into cooler days. 
Let's get cooking!
Why You'll Love Chicken Sausage and Peppers with Pinerolo Tomato Sauce 

This pasta is going to become one of your favorite go-to recipes, I just know it! Not only is it a big crowd-pleaser, but it's incredibly easy to make and hits the spot every time. 
Need a delicious dish to feed a lot of mouths? 
Want an easy dinner that you can whip up in 30 minutes?
Craving a hearty, wholesome pasta that's actually good for you?
This dish does it all. Let's break down the few simple ingredients in this recipe and why you'll love them:
Chicken Sausage: Healthy Power Protein 
My family loves Italian sausage, but I like to make this dish with a spin on our old classic. Chicken sausage is a healthier protein option as it contains less fat than traditional pork sausages.

Personally, I love to use Gilbert's Caprese Chicken Sausages. The caprese version packs in tons of added Italian flavor with the mozzarella, basil, and sun dried tomato.

But, you can truly use any sausage you like. Opt for plain chicken sausage, traditional sweet Italian sausage, or even veggie sausage! No matter which type of sausage you choose, try to find one with antibiotic-free or organic ingredients, and no nitrates or nitrites.
Bell Peppers: Vitamin C Boost
Bell peppers are the natural side-kick for sausage dishes. Plus, their high levels of vitamin C (especially red bell peppers) give your body an extra boost of immune power to fight off the seasonal colds and flu.
Pinerolo Tomato Sauce: Deep Flavor 
Anna Maria's Pinerolo Sauce is inspired by the Piemontese town of…Pinerolo of course! Smoky crisp pancetta and garden-fresh sage make a hearty and flavorful sauce that complements the chicken and peppers perfectly. Cut back on excess salt and seasonings and enjoy the depth of flavors already packed inside!

Gluten-Free Fettuccine
Whether you are living a gluten-free lifestyle, or just want to experiment with gluten-free foods for a change, this is a great dish to start with. Many people struggle with the transition to gluten-free pasta because, well, it's just not the same.

The key to success with gluten-free pasta is to start by making delicious and forgiving recipes like this one. The chicken sausage, peppers, and tomato sauce are so hearty and flavorful that they take center stage. If your gluten-free pasta isn't perfect, not to worry! You won't even notice under all the robust flavors and textures of this meal.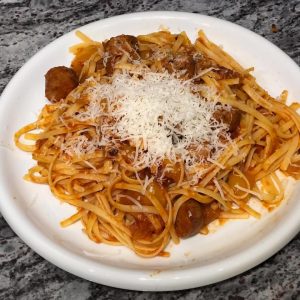 Out of the Ordinary Chicken Sausage and Peppers with Pinerolo Tomato Sauce
Dominique Debroux, Founder of AMF, Nutrition Addict
Perfect, easy to make recipe, with the hearty flavor of sausage and peppers with the aromatic sage of Pinerolo Tomato to warm you up on the cooler Fall days.
Cuisine
Italian, Piemontese
2

bell peppers

large orange, or red, chopped large

1

onion

larage, chopped

2

garlic cloves

sliced thin

2

tbsp

olive oil

extra virgin

1

package

chicken sausage

4 or 5 sausages, sliced in rounds

salt

to taste

grated parmesan

optional
Heat a large saucepan over medium heat.

Pour the olive oil in the pan, followed by peppers, onions, and garlic.

Saute until slightly soft.

Add chicken sausage and saute until lightly browned.

Add the whole contents of the Pinerolo Tomato jar. You don't need to add any herbs because the sage in the sauce is fragrant for the whole dish!

Bring sauce to a bubble, then stir in salt to taste.

Reduce heat to between medium and low and cook covered for 10 minutes.

While the sauce is cooking, make your pasta according to package instructions and drain.

Plate each portion of pasta with a hearty spoonful of chicken and peppers over top. Top with grated parmesan if desired.

Enjoy!
Instead of pasta, try serving the sausage and peppers alone with steamed veggies, or over rice, quinoa, or other types of pasta.
You can use any type of sausage for this recipe, including ground sausage instead of links.
Don't limit yourself to Pinerolo Sauce! Any of our Anna Maria's sauces will pair perfectly with the sausage and peppers.
Calories:
205
kcal
Carbohydrates:
20
g
Protein:
3
g
Fat:
13
g
Saturated Fat:
2
g
Polyunsaturated Fat:
1
g
Monounsaturated Fat:
7
g
Cholesterol:
1
mg
Sodium:
355
mg
Potassium:
229
mg
Fiber:
2
g
Sugar:
10
g
Vitamin A:
2486
IU
Vitamin C:
105
mg
Calcium:
18
mg
Iron:
1
mg
Keyword
healthy, pasta, sausage